How much can you earn as a man and van professional?
With London witnessing an influx of new residents every month, removal companies have continued to thrive. By joining us, you can earn up to £500 - £1,000 a week based on the size of your van, availability and the location's demand. Plus, if you're anywhere in the UK, we'd love for you to be part of our team!
Working as a man and van professional can be very rewarding. It is a great way to make an income and allows you to work when and where you want.
This guide will give you all the information you need about how much money you can make as a man and van professional. We'll cover topics such as setting your rates, finding clients, and the potential for long-term success. With this guide, you'll have all the knowledge to start your successful man and van business.
What is a Man and Van Business and How Does it Work?
Man and van businesses provide a convenient way for people to move their belongings from one place to another. They offer a service where a man with a van will come to your location, pick up your belongings, and take them to the destination of your choice.
This service is excellent for those who need access to or want to avoid the hassle of hiring a traditional moving company. It is also affordable for those who need to move items quickly or on short notice.
Man and van businesses are great for residential and commercial moves, furniture removals, eBay deliveries, student moves, etc. With the help of these businesses, you can easily transport items without having to worry about doing it yourself or dealing with heavy lifting and long-distance driving.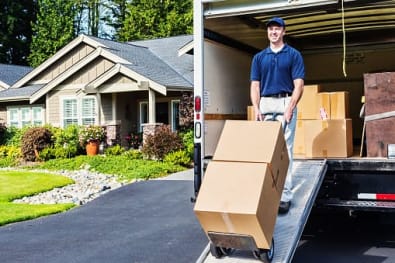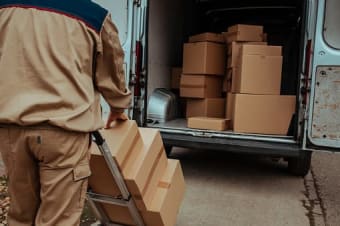 How Much Do Man and Vans Earn on Average?
Man and van companies are a great way of transporting goods, furniture and other items that can't fit in a car. It is an increasingly popular option for those who need to move large items quickly and efficiently. But how much do man and van earn on average?
The amount a man and van company earns depends on various factors such as the nature of their work, location, size of their van, working hours, and people involved in loading and unloading. Typically, those with one or two men can make between £25 and £85 per hour, depending on their experience.
It is worth noting that man and van companies in London may earn more, but their expenses may also be higher due to additional costs due to congestion charges. This can include daily charges for entering certain zones or routes during peak hours. These charges can quickly add up and impact the company's overall earnings. Man and van companies must factor in these expenses when pricing their services to ensure they are still profitable.
However, if you are doing this business, you will need to pay for fuel and any maintenance costs associated with your vehicle. That could significantly reduce their overall earnings.
Become an URemovals service partner
If you possess one or multiple vans, this could mark the start of an incredible opportunity. Our advanced technology helps connect you with man and van jobs that are situated near your location and align with your schedule and prices.
Apply Today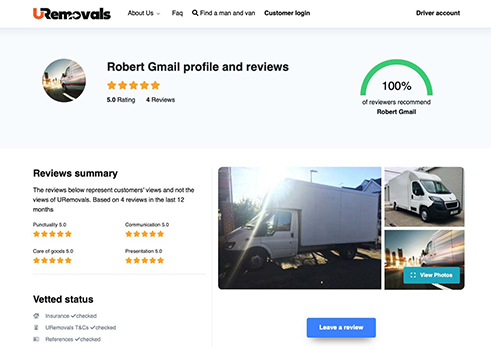 What are the Best Ways to Market Your Man & Van Business?
Are you looking for the best ways to market your man & van business? With the right marketing strategies, you can succeed in your business and reach more customers. Whether a small local business or a large national operator, various online and offline marketing strategies can help you grow your man & van business. From using social media to creating effective local advertising campaigns, there are many ways to promote your services and increase your customer base.
If you join us, you will make a great profile to show all the necessary information about your business to potential Customers. If a Customer is looking for man and van service in your area, your quote will be displayed for them, and they can make a booking directly with you.
Our platform's benefits:
You get advertised, and you have the potential to generate repeat customers. Once you have completed a job, customers may contact you directly when they need man and van services.
Your reputation is an invaluable asset - customers can leave reviews that can be helpful in your future endeavours. Every job you complete adds to your track record, strengthening your credibility with potential clients.

Unlike other platforms, jobs come directly to you, considering your preferences and availability. That ensures that you don't have to search for work every day.

You are your boss and completely control your pricing and availability. You decide how much you'll charge for a job and when you'll be available.
Additional Tips to Maximise Your Income as a Professional Man & Van Service Provider
As a professional man & van service provider, you have the potential to maximise your income if you follow the right tips. By understanding your client's needs and providing them with quality services, you can ensure that your customers are happy and willing to pay for your assistance.
Additionally, you can also look into ways to increase efficiency and reduce costs so that you can maximise your profits.

Written by
Media and Social Media Manager
With the hustle and bustle of city life and the myriad options available, moving homes in London can seem impossible. It's easy to get lost in many choices and pay more than necessary. That's where we at URemovals step in to demystify the world of man and van services and empower you to save big!

When it comes to moving, convenience is key, and many customers wonder if they can catch a ride in the moving van with their belongings. The answer is generally yes, but it depends on a few factors. Let's delve into the details of traveling in the van with the movers and what to expect.

Moving to a new city for higher education is an exciting milestone in a student's life, but it can also be a daunting task, particularly when it comes to relocating belongings to London. The bustling metropolis can present unique challenges for students navigating the process of moving. However, there are efficient solutions available that can make student moves in London a breeze. In this article, we will explore the benefits of using a man and van service for student moves in London, coupled with the advantages of utilizing our innovative comparison platform to streamline the entire process.