Discover Woking: A Place of Beauty and Convenience
Woking, located in Surrey, is a picturesque town with a rich history, vibrant culture, and modern amenities. It is a preferred choice for many individuals and families to set roots in. As the town has evolved, so requires efficient and reliable moving solutions, particularly for those who require smaller-scale, personalised assistance. Enter the man with van Woking services, a niche but integral part of the moving ecosystem that caters to this specific need.
A Glimpse into Woking's Charms
Nestled amidst green landscapes and bustling streets, Woking amalgamates the historical and contemporary. Many residents cherish serene parks like Woking Park and modern shopping paradises like the Peacocks Centre. With cultural hubs like The Lightbox and the historic Shah Jahan Mosque, Woking is a melting pot of cultures and experiences.
The Evolution of Man and Van Services in Woking
Gone are the days when moving required you to enlist the help of numerous friends or pay exorbitant fees for a full-fledged moving company, especially for smaller loads or short distances. The man and van Woking services have revolutionised this experience by providing flexibility, affordability, and convenience.
Why opt for a man with a van in Woking?
Tailored Services: Unlike traditional moving companies that may offer a one-size-fits-all approach, man and van services adapt to your needs. Whether you're relocating a few bulky items or a small apartment's possessions, they have you covered.
Local Expertise: Navigating Woking's streets, particularly during peak hours, requires a distinct local understanding. Who knows the shortcuts, parking spots, and timings better than a local man with a van?
Affordable Moving: Cost remains a significant concern when relocating. Man and van services in Woking provide an economical alternative without compromising service quality.
Introducing URemovals: Not Just Another Man and Van Service
We at URemovals understand the unique requirements of Woking's residents. But here's the twist: We're not a traditional moving company. Instead, URemovals offers a man and van price comparison service. This ensures you get the best price and reliable service tailored to your needs.
How do URemovals stand out?
Comprehensive Comparison: We combine the best of man and van Woking services to compare and choose from.
Quality Assurance: All benefits listed with us undergo a rigorous verification process. You're not just getting any man with a van; you're getting the best in Woking.
Simplified Booking: Once you've made your choice, booking is a breeze with URemovals. With a few clicks, your moving solution is confirmed.
Dive Deeper into Woking with URemovals
But we're not just about moving. Our roots in Woking run deep. Let's delve a bit into some features that might interest someone considering living in Woking:
Education: Woking boasts some of the top schools in Surrey. Its reputation for educational excellence is backed by institutions such as Woking College and Goldsworth Primary School.
Transport Links: Connectivity is a forte, with Woking railway station providing swift access to London, making it a choice location for commuters.
Recreation: Whether you're a fan of leisurely walks in the Horsell Common or fancy a night at the theatre in the New Victoria Theatre, Woking caters to all.
In Conclusion, URemovals is Your Go-To for Man and Van Woking Services
URemovals is here to ease your transition into, within, or out of Woking. Trust in our expertise and network to find the right man with a van Woking service. Join the hundreds who've experienced the URemovals difference. Remember, when it's about moving to Woking, we've got your back.
Customer reviews
Our nearest registered drivers to Woking
Affordable man and van prices Woking
URemovals is a comparison service for man and van and home removal companies. We aim to find the best price for your move in just a few clicks. So why URemovals?
Book online with ease
Fill up a short form with your moving details; it does not take more than 1 minute.
Get the best quotes
Our system will list for you the available service providers.
Save time & save money
Select your local trusted mover based on price and reviews.
Ready for your move?
With our secure online booking, you can conveniently plan your move. Our automated free moving quotes system will eliminate the hassle of checking prices and reduce the average removal cost. If you have questions or concerns about your booking, a friendly member of our UK team is here to help you. Give us a call.
Mon - Fri between 8am and 5pm on
020 8064 2103
Read moving tips and guides
With our moving guides and tips, we try to make moving easier.

URemovals
Wednesday 12th Apr 2023
Top 10 Things to Do in Woking
Woking, a large town in Surrey, England, offers a unique blend of history, culture, and modern attractions. From picturesque parks to vibrant shopping districts and museums, Woking guaran...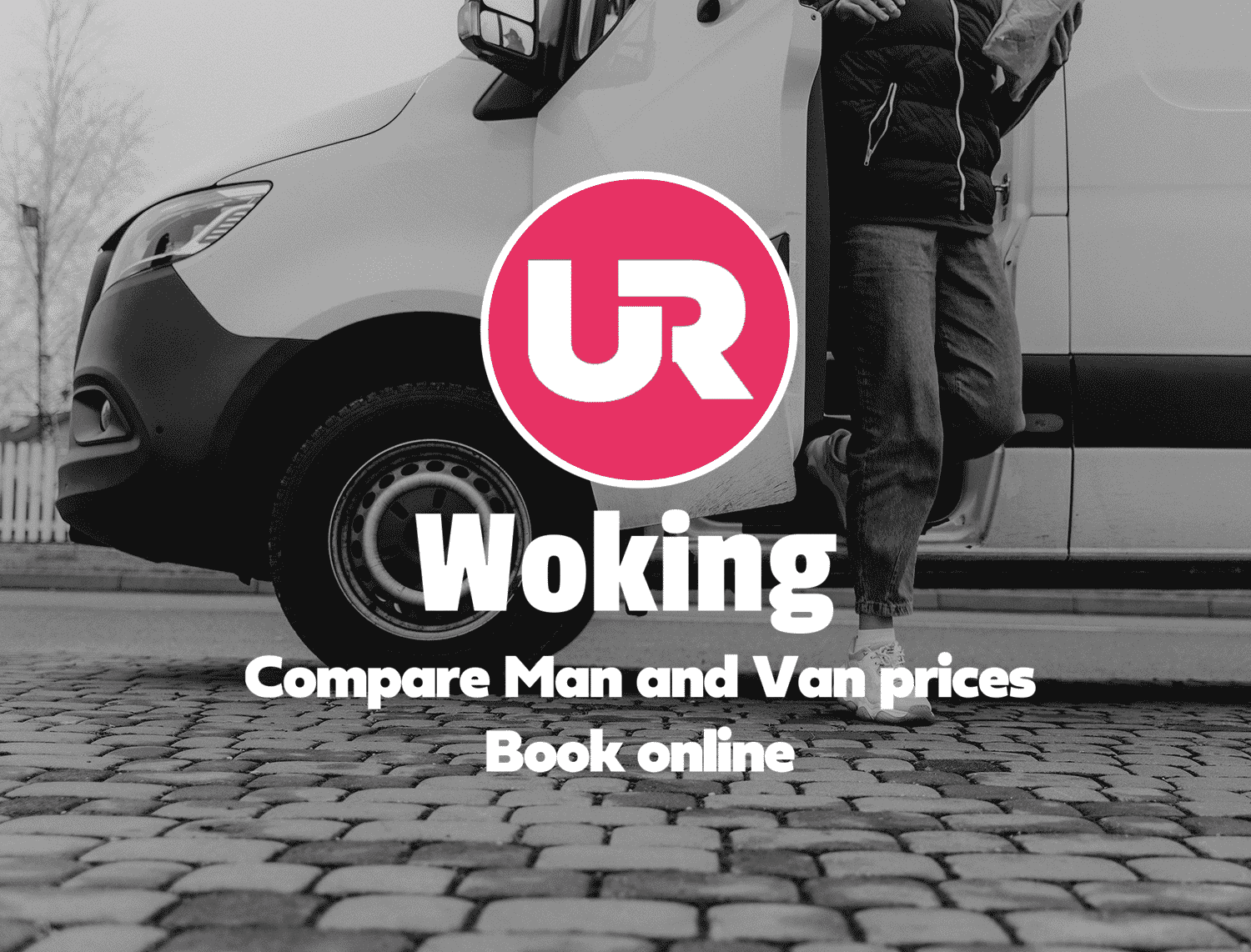 You may find it challenging to find the right man and van service in Woking. Our online quote tool does the hard work of finding local moving van hire prices for you. If you need help with the booking process, call us on 020 8064 2103 during office hours Mon - Sun. 8 am - 5 pm, or use our support chat.
Moving to another city?
Local man and van services are available in the following areas.
Man with a van
Get a moving or delivery van anywhere in the UK. We have more registered expert movers in Woking.
House Removals
All our registered movers are professional companies, fully insured, with the equipment needed to move.
Office Relocations
If you plan to relocate to a new office, URemovals can help ensure the process runs smoothly
Delivery
You can also find a solution on our platform if you need simple delivery. This includes orders from eBay, IKEA, or other marketplaces.