Welcome to URemovals, your one-stop destination for man and van services in the picturesque locale of St Helens. Leveraging the skills and expertise of local service providers, we streamline your moving process, presenting you with a selection of the best man and van solutions tailored to suit your needs. Our services are not just about moving; they provide a seamless transition from one home to another while reducing carbon emissions by choosing local experts.
Living in St Helens
Nestled in the heart of Merseyside, St Helens is a beacon of historical richness and modern amenities, offering its residents a harmonious blend of both worlds. The town is brimming with cultural landmarks such as the World of Glass museum, a testament to its rich industrial history and a source of fascination for locals and visitors alike. Additionally, its green parks and open spaces offer fresh air and a respite from the hustle and bustle of daily life.
Living in St Helens avails you to a host of recreational activities with facilities like the Haydock Park Racecourse for sports enthusiasts and theatre productions showcased at the St Helens Theatre Royal for art lovers. The town's community spirit is palpable in the warm smiles of the locals, rendering a sense of belonging and a welcoming atmosphere that quickly makes newcomers feel at home.
The town boasts a sound education system with various schools offering quality education. The healthcare infrastructure is robust, with modern facilities ensuring residents have access to excellent healthcare services around the clock.
URemovals - The Epitome of Convenience
Our price comparison service sets us apart from a traditional moving company, offering you the best local man and van hire St Helens solutions at competitive prices. We are your trustworthy ally, facilitating a hassle-free and economical moving experience characterized by professionalism and attention to detail.
Local Expertise
Local man and van services have an intimate understanding of the St Helens locale, being well-versed with the traffic patterns and the best routes to ensure a smooth move. Their familiarity with the area translates to quicker and more efficient services, as they can expertly navigate the streets of St Helens, saving you time and reducing the likelihood of delays.
Why Choose Local Companies for Your Moving Needs
The choice of local companies for your moving needs is a conscious step towards reducing the carbon footprint, which entails shorter travel distances, resulting in lower fuel consumption and emissions. It is a choice that reflects responsibility towards the environment and a commitment to sustainable practices.
Community Building
Choosing local moving companies fosters community building, encouraging local entrepreneurship and creating job opportunities within the community. This choice stands for solidarity and a unified approach to promoting economic growth at the grassroots level.
Seamless Integration with the Locale
When you choose a local man and van St Helens service through URemovals, you're not just getting a moving service but opting for a seamless integration with the locale. Our local experts offer insider tips and advice to help you quickly settle into your new home, sharing details about the best spots in town, be it the leisure facilities, schools, or the hidden gems that define St Helens.
Interesting Facts about St Helens
St Helens is a town steeped in history and culture. Did you know that the city has a rich sporting legacy? It is home to the St Helens R.F.C., a rugby club with a lineage dating back to the 19th century. The club has cultivated a spirit of sportsmanship and excellence, nurturing talents who have become legends in the rugby sphere.
The town's rich industrial legacy is another fascinating aspect of its history. St Helens was once a booming coal mining town and later became renowned for its glass production. This industry has left an indelible mark on its landscape and contributed significantly to its economic development.
Conclusion
Choosing URemovals for your man and van St Helens service is a choice for convenience, community, and environmental care. We offer a rich repository of local knowledge and a commitment to providing the best moving services tailored to meet your needs while adhering to sustainable practices.
As you embark on this exciting new chapter in St Helens, we invite you to leverage the convenience and expertise that our local man and van services offer, assuring a smooth transition into your new home. URemovals is here to facilitate a move that is not just about changing houses but about seamlessly integrating into a community rich in history, vibrant in culture, and promising in the opportunities it offers. Choose URemovals for a move that mirrors the warmth and camaraderie that St. Helens embodies.
Customer reviews
Our nearest registered drivers to St helens
Affordable man and van prices St Helens
URemovals is a comparison service for man and van and home removal companies. We aim to find the best price for your move in just a few clicks. So why URemovals?
Book online with ease
Fill up a short form with your moving details; it does not take more than 1 minute.
Get the best quotes
Our system will list for you the available service providers.
Save time & save money
Select your local trusted mover based on price and reviews.
Ready for your move?
With our secure online booking, you can conveniently plan your move. Our automated free moving quotes system will eliminate the hassle of checking prices and reduce the average removal cost. If you have questions or concerns about your booking, a friendly member of our UK team is here to help you. Give us a call.
Mon - Fri between 8am and 5pm on
020 8064 2103
Read moving tips and guides
With our moving guides and tips, we try to make moving easier.

URemovals
Saturday 23rd Sep 2023
The Londoner's Ultimate Guide to Saving Big on Man and Van Services
With the hustle and bustle of city life and the myriad options available, moving homes in London can seem impossible. It's easy to get lost in many choices and...

URemovals
Tuesday 1st Aug 2023
Hitching a Ride with the Movers: Can You Travel in the Van?
When it comes to moving, convenience is key, and many customers wonder if they can catch a ride in the moving van with their belongings. The answer is generally...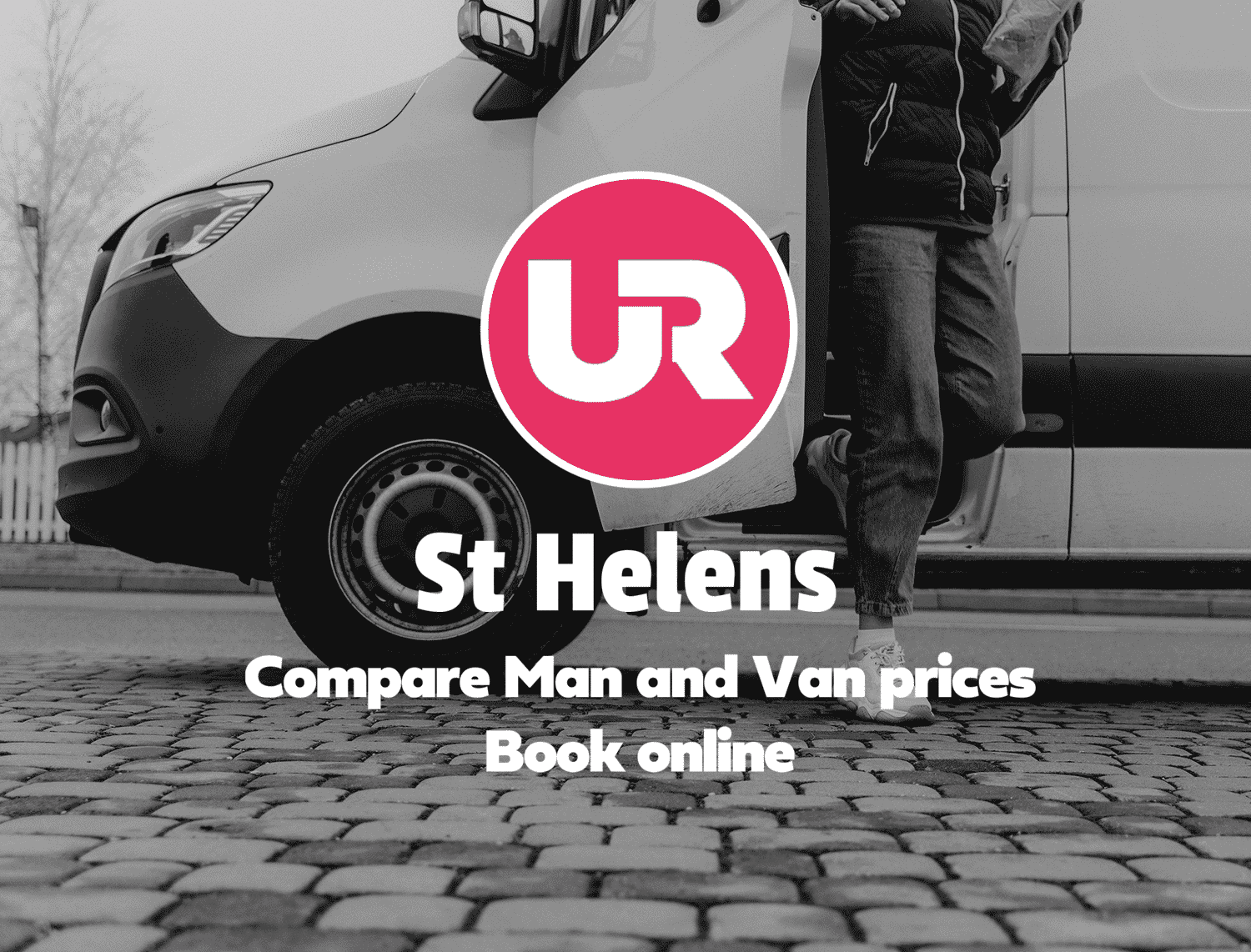 You may find it challenging to find the right man and van service in St helens. Our online quote tool does the hard work of finding local moving van hire prices for you. If you need help with the booking process, call us on 020 8064 2103 during office hours Mon - Sun. 8 am - 5 pm, or use our support chat.
Moving to another city?
Local man and van services are available in the following areas.
Man with a van
Get a moving or delivery van anywhere in the UK. We have more registered expert movers in St helens.
House Removals
All our registered movers are professional companies, fully insured, with the equipment needed to move.
Office Relocations
If you plan to relocate to a new office, URemovals can help ensure the process runs smoothly
Delivery
You can also find a solution on our platform if you need simple delivery. This includes orders from eBay, IKEA, or other marketplaces.